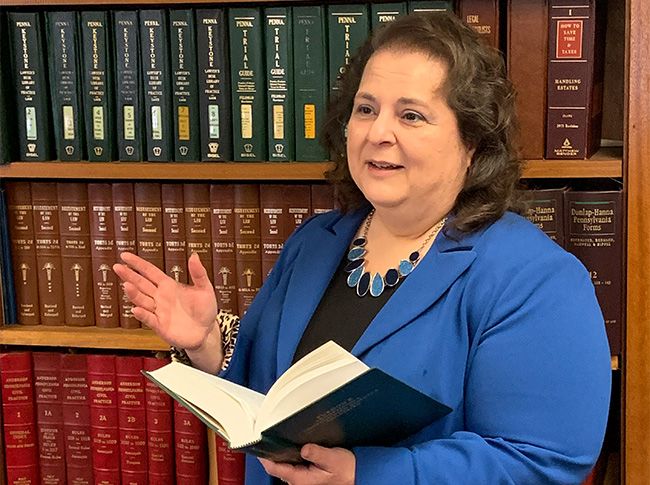 Rosana Chiple brings over 30 years of legal experience to Peak Legal Group. She excels at guiding her clients through complicated and emotionally trying legal matters. She is also one of the few fluent Spanish speaking attorneys in Chester County.
Rosana grew up in West Chester and received her bachelor's degree from Immaculata University, where she was a member of the Spanish National Honor Society and Phi Alpha Theta History International Honor Society. She received her law degree at Widener University School of Law (now Delaware Law School). Rosana is active in the Chester County Bar Association (CCBA), having chaired the Naturalization Committee since 2001. She is also the recipient of the bar association's 2011 Board of Director's Award and 2020 President's Award. Rosana is an Adjunct Professor at West Chester University of Pennsylvania where she teaches courses in the areas of Immigration and Criminal Justice.
Guiding my clients through
life-changing times is a responsibility
I take very seriously.
Rosana focuses her practice in the areas of Family Law, Mediation, Immigration and Wills and Estates. As a parent/child advocate in Chester County Juvenile and Orphan's court, she has been handling complex child welfare cases and adoption matters for 30 years. Rosana is a skilled courtroom lawyer who is highly sought-after for divorce and custody litigation matters. She takes pride in being prepared to fight but also willing to compromise if it is in the best interest of her client.
Having witnessed the financial and emotional damage that nasty courtroom battles can inflict on the parties (especially when there are children involved), Rosana strongly encourages people contemplating divorce to consider using Family Law Mediation instead of expensive and prolonged litigation. Rosana is the co-founder and co-chair of the CCBA's Family/Custody Mediation Section. As a certified Mediator, Rosana works closely with couples to resolve their divorce and child custody disputes through guided negotiation rather than through the courts. She has found that mediation not only helps divorcing couples save a lot of money, but also time, aggravation and heartache, leaving the participants feeling more empowered and better able to move forward in a healthy way.
In her spare time, Rosana is a devoted Trekkie who is equally likely to be found sampling a new local restaurant with friends, helping someone in need, or laughing at the latest hijinks of her beloved cats. She is passionate about giving back to her church and community as a Sunday school teacher and a volunteer for the Red Cross and the Chester County Animal Response Team.
Bar Admissions
Education
Juris Doctor, Widener University School of Law, 1989

B.A., Immaculata University, 1986
Professional Associations & Membership
Pennsylvania Bar Association

Chester County Bar Association

Chair, CCBA Naturalization Committee

Co-chair, CCBA Family/Custody Mediation Section